Previous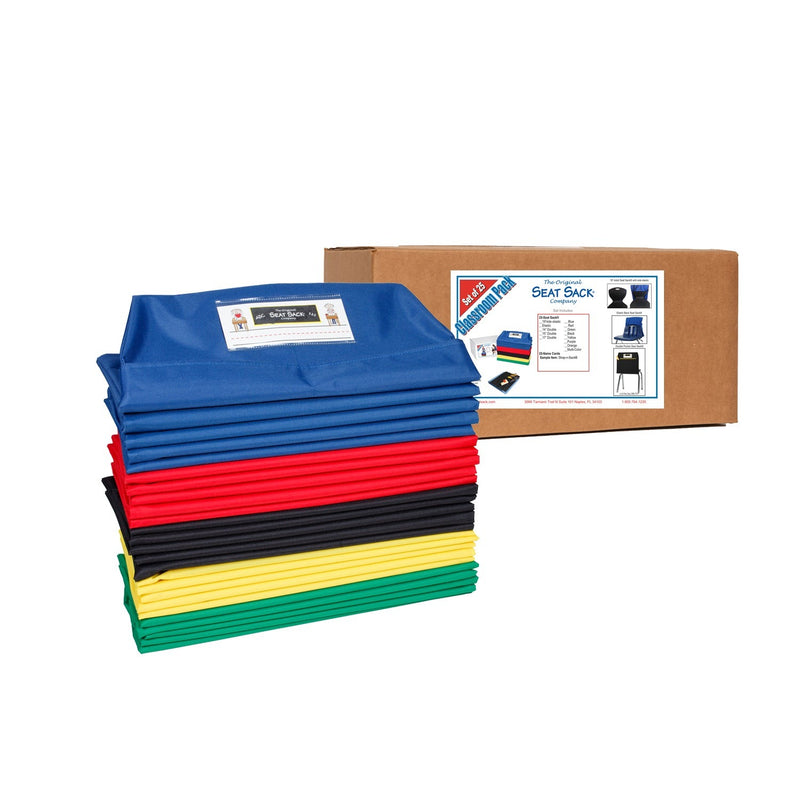 Next
Seat Sack | Classroom Pack | Special Sizes
Our special size chair pockets will assist with hard to fit, ergonomic back, and larger size chairs. Choose between an Elastic Back or Adult size Seat Sack. Save when you order in a classroom pack!
A classroom set of special size Seat Sacks® is an affordable way to organize your classroom.  View our sizing chart to determine the best size Seat Sack for your chairs. These chair pockets have elastic added to them to assist with a proper fit of hard to fit ergonomic style chairs. Simply slide onto the back of a chair for instant school supply storage.
Classroom Pack Includes:
25 Single Pocket Seat Sacks (includes 25 name cards)
1 Sample Item
SEAT SACK® Care Instructions: 
Seat Sacks® are machine washable and can be dried.  Please follow the instructions below:
Machine Wash:
Machine wash on a warm/gentle cycle 
Dryer:
Tumble dry on low
You may also lay flat or hang to dry.
Extra Tips from Teachers:
Please note that we are not promoting any products, only listing ideas that teachers have sent us.
Instagram Post from thelilteacher:  This idea from gocleanco. Throw Seat Sacks® into a tub and soak them in powdered Tide® and Borax®. After soaking machine wash to get the soap out.
Thelilteacher has pictures of her washed Seat Sacks® posted on her Instagram page and they look amazing!
In addition, teachers that had ink on their Seat Sacks® have recommended Amodex®. They do state you must follow the directions on the back of the bottle for a successful removal of the ink.