Previous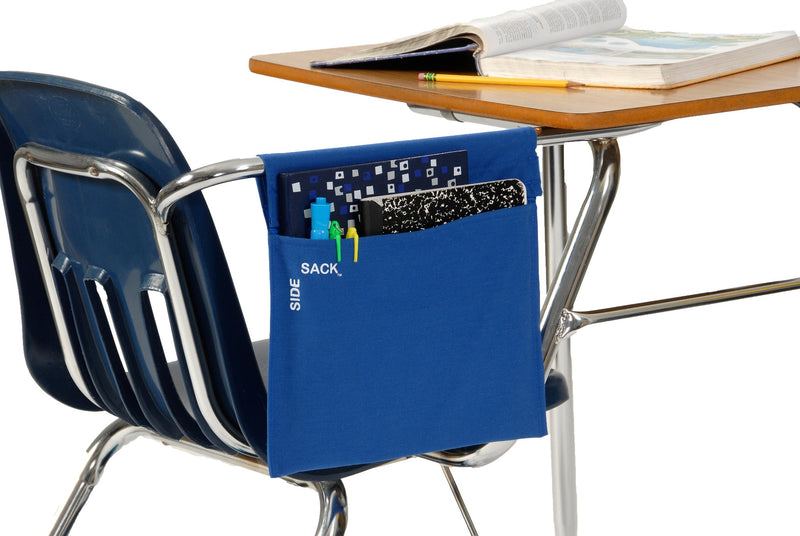 Next
Side Sack
Instantly hang from a desk with a side arm with this Side Sack. The pocket can be used to hold books, school supplies or tech storage for instant access right at a students seat
An interlocking system allows for this Side Sack to instantly hang from a desk with a side arm. The pocket can be used to hold books, school supplies, or tech storage for instant access right at a student's seat. Available in a variety of colors. The Side Sack is a must-have classroom accessory for any student with a side arm desk. With its convenient hook and loop closure, our Side Sack can easily and securely attach to any sidearm desk. This hanging desk pocket provides easy access to essential school supplies like notebooks, markers, tablets, dictionaries, colored pencils, and other school supplies. Sidearm desks tend to have little storage space, but with the Side Sack, students can expand their storage space and keep learning essentials close at hand. The Side Sack is made from high-quality materials and with its versatile and removable design, you can use this hanging desk pouch year after year. The Side Sack is the perfect classroom addition for teachers looking to maximize their classroom space. With the Side Sack's roomy pocket, student supplies are always within reach and easy to find. Keep school supplies off the floor and organized with the Side Sack.
Save when you purchase our Side Sacks in a Bundle of 10 or a Classroom Pack of 25.
SEAT SACK® Care Instructions: 
Seat Sacks® are machine washable and can be dried.  Please follow the instructions below:
Machine Wash:
Machine wash on a warm/gentle cycle 
Dryer:
Tumble dry on low
You may also lay flat or hang to dry.
Extra Tips from Teachers:
Please note that we are not promoting any products, only listing ideas that teachers have sent us.
Instagram Post from thelilteacher:  This idea from gocleanco. Throw Seat Sacks® into a tub and soak them in powdered Tide® and Borax®. After soaking machine wash to get the soap out.
Thelilteacher has pictures of her washed Seat Sacks® posted on her Instagram page and they look amazing!
In addition, teachers that had ink on their Seat Sacks® have recommended Amodex®. They do state you must follow the directions on the back of the bottle for a successful removal of the ink.
Sale
Sale